Looking for the best place to live in Norway? We will help you out. If you're thinking of migrating to Norway, or if you're curious about what it has to offer in terms of lifestyle, cost of living, and attractive places, this post will help you get a better picture.
We'll talk about the best places to move to if you have a family and children, where cities are more affordable, or where students might discover the most alluring possibilities to further their studies. Last but not least, this article will examine several features of Norwegian living that you should be aware of before relocating from the UK to this breathtaking Scandinavian nation.
Table of Contents:: Summary
hide
Why Live or Retire in Norway?
Here is why you should consider retiring and living in Norway:
The Majority of The Population Speaks English
If you are an English speaker, you will notice that Norwegians enjoy practicing their English, which they have all learned in school. The initial impact is greatly facilitated by this. There is an English version of the personal tax form as well.
It is advised that you learn Norwegian since it is the language that most people use for social interaction. If you wish to enroll in a university course, you might need to complete this, which could take up to three years. The fact that governmental funding makes college education free is another fantastic benefit.
Beautiful Scenery
The spectacular scenery that spreads for miles is breathtaking whether you are traveling by car or train. There are stunning fjords, as well as gorgeous mountains, waterfalls, glaciers, and lush hillsides. The 7-hour train ride from Oslo to Bergen will mostly be spent taking in the breathtaking sights.
You'll have a lot of unforgettable experiences when driving on popular national highways. It is so simple to venture off the usual path.
Family-friendly Country
Norway is renowned for its pro-family laws. It is well knowledge that fathers are entitled to up to 12 weeks of paid leave within the first three years following the birth of a child.
In Norway, getting older is also quite advantageous. Elderly people over the age of 67 who meet specific criteria will get a $1,000 monthly state pension. Additionally, employees benefit from a shorter, 37.5-hour workweek and extended, 25-day paid holidays.
Booming Economy
Norway's offshore gas and oil reserves have made it wealthy. The government keeps a large portion of this money and uses it for public welfare, which makes life there simpler in many ways. The fact that its national pension fund is worth around $376 billion shouldn't come as a surprise. The statistics for this year reveal that despite a single-track economy, both industrial and economic growth has surpassed forecasts and the future is still extremely positive.
Less Crowded
The country of Norway has 5 million people (2013 census). There is enough room for everyone with a density of 14 people per square kilometer. To put everything into perspective, compare it to Macau's 20,500 and Hong Kong's 6,480 inhabitants per square kilometer.
Best Places to Retire and Live in Norway
Here is a list of the best places to retire and live in Norway. Do take a look!
1. Oslo: Best Place to Retire and Live in Norway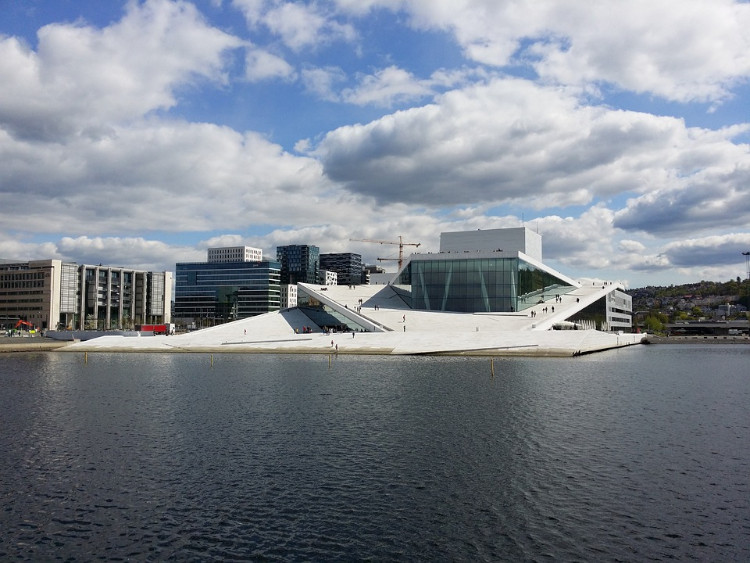 Let's start with the Norwegian capital, which is ranked as the second-healthiest city in the world and one of the greatest locations to live globally. While substantially less crowded than London, Oslo maintains the metropolitan feel of a bustling European city despite having a population of just over 600,000. It is renowned for its fresh air and water, a wide variety of employment options, good pay, low crime rates, and excellent work-life balance.
For young people looking for top-notch free higher education or some high-paying career opportunities, Oslo is an excellent area to relocate. The increased income one can enjoy somewhat offsets the higher expense of living in the capital city, which is naturally higher than in other places. Even so, spending some of one's income on social activities like going out to eat with friends is typically limited to once a week, even though one can earn a respectable salary. In that regard, Norwegians like spending their free time outside, such as hiking and skiing. If you enjoy sports, Oslo has a lot to offer you. Family-friendly activities abound in Oslo Winter Park, while adjacent Holmenkollen's ski-jumping hill can quickly raise your heart rate.
Places to Eat: Athallen, Olivia Aker Brygge, Taqueria, Villa Paradiso, Habsak
Places to Visit: Fram Museum, Viking Ship Museum, Norsk Folkemuseum, Vigeland Park, The Norwegian National Opera & Ballet
2. Arendal: Best Place to Retire and Live in Norway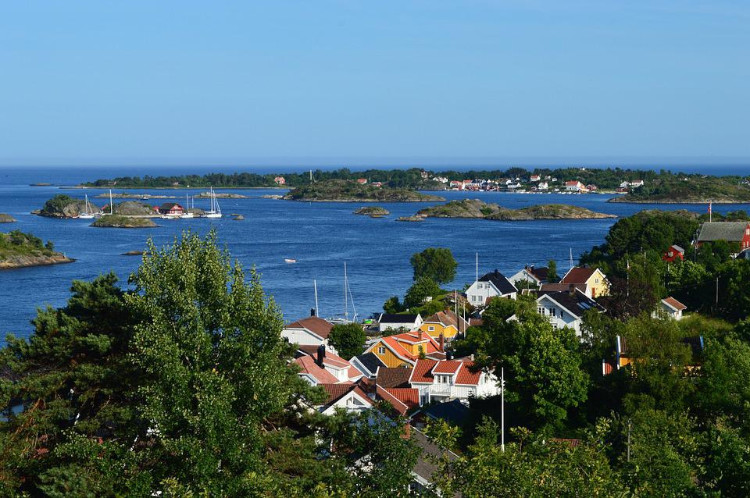 Arendal is a small town in the south of the country. It is rich in history, with charming wooden homes from the 17th century located in the city's center. The town is ideal if you're moving with your family because it is highly safe. To live a comfortable life with their family, one would require roughly £3800 per month, thus it is on the pricey side.
Arendal is well known for its summertime music scene, and Hove Event used to be the biggest festival in the nation. The community also values diversity and welcomes English speakers, as the majority of residents are fluent in the language. However, the temperature is on the chilly side, with cool summers and chilly winters.
Places to Eat: Blom Restauran, Nøgne Ø, Symposium
Places to Visit: Hove and Spornes, Vitensenteret Sorlandet, Bjellandstrand Gard, Trinity Church
3. Bergen: Best Place to Retire and Live in Norway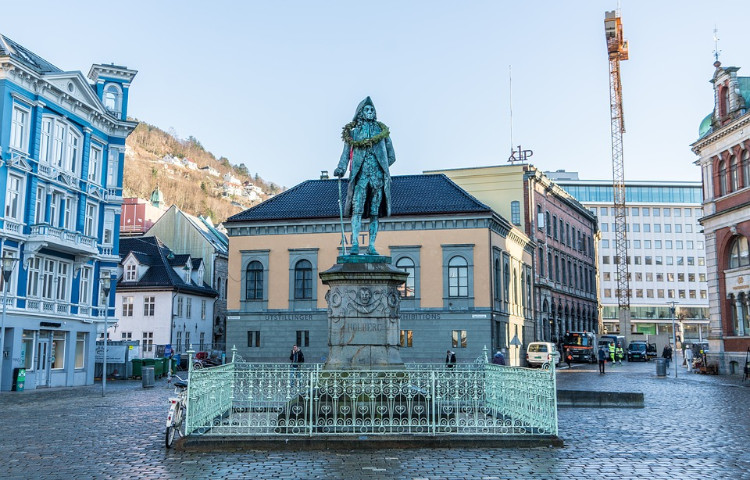 Bergen is a big city on Norway's western coast. From the peak of Mount Floyen, which is close to the city, visitors may overlook some of the most beautiful fjords. For Brits who appreciate culture, the arts, and music, it might be the ideal new home. The primary cultural center, Grieg Hall, is where the Bergen Philharmonic Orchestra is located. The city is also regarded as the street art center of Norway. Bergen can be the best place to live in Norway for you if you are an art enthusiast.
Bergen is proud of its low crime rates, strong tolerance for foreigners, and commitment to social inclusion and diversity. The city is more than suitable for families that want to raise their kids in a secure environment.
When it comes to the cost of living, Bergen is nearly as expensive as Oslo. To pay all household expenses for a four-person household, set aside approximately 3900 GBP or 49 000 NOK every month.
Places to Eat: Pingvinen, Selam, Colonialen Litteraturhuset, Daily Pot
Places to Visit: Bryggen Hanseatic Wharf, Market Square, Bergenhus Fortress, Hanseatic Museum
4. Trondheim: Best Place to Retire and Live in Norway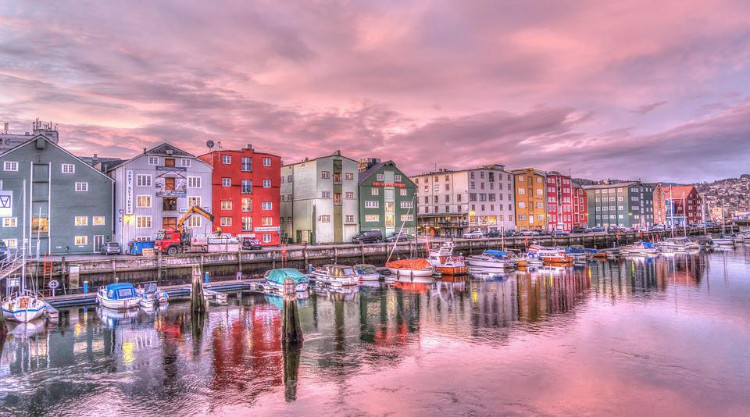 Trondheim is another significant fjord city in northern Norway. Due to its oceanic environment, the city's coastal areas may have milder winters than its inland areas.
Because it is such a safe place to live in, Trondheim is also fantastic for families. Great options for employment and education exist, locals are welcoming and accepting of visitors, and the area is surrounded by nature for weekend excursions. Additionally, the transit system is well-organized and effective. Last but not least, this city exemplifies the spirit of community that is so essential to Norwegian culture.
The drawback of moving there is that the cost of living is considerably higher than in Oslo. The good news is that the pay is high. Two of the most prestigious technical colleges in the Scandinavian peninsula are located in Trondheim, another technological hub. Jobs for tech developers are plentiful, to put it another way.
On a global scale, Trondheim performs exceptionally well in terms of safety. The amount of crime in Trondheim is extremely low, according to Numbeo's crime reports. During the day, it is very safe to wander alone around the city. Be at ease at night as well; in Trondheim, crimes like late-night attacks are incredibly rare. Therefore, Trondheim can be the best city to retire in Norway for you.
Places to Eat: ØX Tap Room, Trondhjem Mikrobryggeri, E.C. Dahls Pub & kjøkken, Spontan Vinbar
Places to Visit: Bakklandet, Old Town Bridge, Bymarka, Sverresborg Trondelag Folk Museum
5. Stavanger: Best Place to Retire and Live in Norway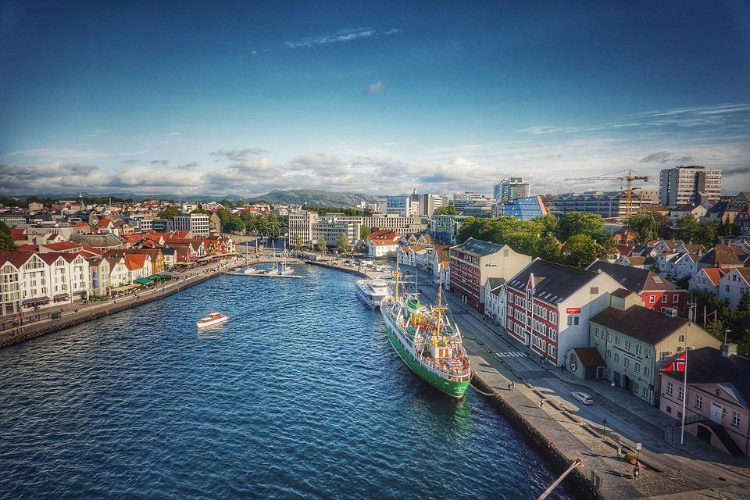 One of Norway's most sought-after cities for residence is Stavanger. The city, which is on the west coast and is well-known for its fjords, has a thriving nightlife, a wide range of festival events, good educational prospects, employment chances, and scenic locales you may explore in your free time. Stavanger's architecture is extremely beautiful and well worth visiting because the city is rich in history.
Despite the high cost of living in Stavanger, it is not difficult to obtain a well-paying job, particularly if you are trained to work in the oil industry sector, which is the backbone of the city's economy.
The cost of living is relatively high in Stavanger. It costs almost as much as Oslo. The overall difference in cost of living is roughly 5% in favor of Stavanger, which is a little less expensive in some areas. For instance, basic household services like electricity, heating, and water delivery are roughly 11% less expensive in Stavanger than in Oslo.
The benefits of relocating to Stavanger appear to exceed the disadvantages when considering further pros and cons. If you're a die-hard foodie, the location, for instance, has rich culinary traditions. The drawback of living here is that, like other places on the country's west coast, it frequently rains.
Places to Eat: RE-NAA, Sabi Omakase, Spiseriet, Tango Restaurant
Places to Visit: Pulpit Rock, Norwegian Petroleum Museum, Norwegian Canning Museum, Stavanger Cathedral
6. Alesund: Best Place to Retire and Live in Norway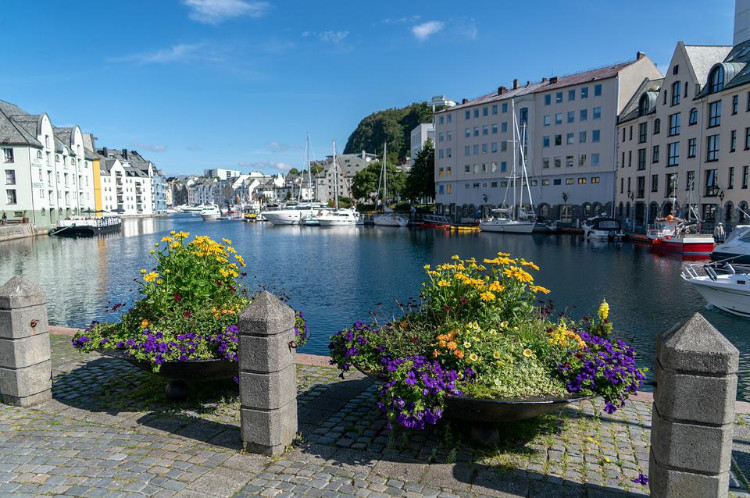 The city is a seaport and contains Norway's most illustrious and significant fishing harbor. They have one of the most advanced fishing fleets in all of Europe. Additionally, the city is well-known for its concentration of Art Nouveau buildings, which draws many immigrants, including Norwegians. The furniture industry is significant in Lesund and the communities nearby.
In addition to its various tourist attractions, the city draws visitors with its stunning harbor and architectural features. One illustration is the Atlanterhavsparken aquarium, which provides both kids and adults with a variety of experiences. On the contrary, Alesund can be the best place to retire in Norway for you.
Places to Eat: XL Diner, Anno Restaurant & Bar, Zuuma, Apotekergata No. 5, Sjøbua
Places to Visit: Fjellstua Viewpoint, Aksla Mountain, Atlantic Sea Park, Sunnmøre museum, Alnes Lighthouse
7. Fredrikstad: Best Place to Retire and Live in Norway
Fredrikstad is a tiny and cozy town in southern Norway, not far from Oslo. The Glomma, Norway's longest river, flows through the settlement, which was developed using Dutch architectural principles. The best preserved walled city in the nation, Fredrikstad is rich in history. The mid-17th century saw the construction of the numerous defenses that make up Fredrikstad Fortress.
The cost of living is far lower than in other cities in Norway, making it feel much cheaper to buy or rent a home there. However, the majority of the living expenses in Norway will seem less expensive to you if you're relocating there from England. Although career opportunities may not be as plentiful, the health care and educational systems are superb. Even so, you can always work remotely for yourself or a foreign entity if you're going there permanently. If they are earning a good exportable pension, retired Britons may also find Fredrikstad to be charming and reasonably priced to live in.
Places to Eat: Restaurant Slippen, Paa Brygga, Egon Restaurant, Chow Burgers, Divan Restaurant
Places to Visit: The Fortified Town, Byfergene, Gamlebyen Miniature Railroad, Isegran, Kongsten Fort
Conclusion
Similar to many other countries in the Scandinavian region, Norway can be a great destination to start your new life. The area is known for being safe, making it a great place for families, and it can offer far better income than you'll find anywhere else in the Nordic region or the rest of the world.
Norway may be the perfect place for you to live if you can adjust to its unpredictable weather and are willing to put up with things like moderately higher taxes and a high living cost.
Therefore, we recommend traveling to the places you're considering moving to beforehand so you can get a sense of the community before making any final choices.