Okie, so you're weighing your options for a place to retire or looking for a place to have an extended stay, and I assume you've considered Goa as one of your probable choices. Interestingly, Goa has a lot to offer, and on a serious note, it can be boring as well, all coming down to the type of your personality. However, to begin with, let's take a quick look at why Goa is one of the favourite retirement destinations for NRIs, ex-pats, and a lot of Indians, including my dad.
Why Should You Retire in Goa?
Needless to say, there is a lot Goa can offer– starting from the beautiful beaches, memorable beach walks, hosting friends and families, to meeting new people. The nightlife and the serenity can also add a little bit more flavour to your life. The reason I consider Goa to be one of the ideal destinations for retirement is that it offers a minimal yet luxurious lifestyle. The basic necessities weaved with a flavour of refinement.
Clean Air
Abundantly Green
Good Sunshine and Topical Conditions
Beautiful Beaches
Breath-taking Sunsets
Lovely Seafood
A Party Paradise
Luxury Bungalows at an Affordable Price
Minimal Cost of Living
Low Traffic
Friendly Culture
Do check out my article on ten reasons to retire in Goa for a more detailed understanding of why you should be retiring in Goa and if it is the right choice for you.
Goa is Your Retirement City if You Like These Things
Love to Explore: There is much to explore in Goa. The villas to stay in, the cafes to relish the fine breakfast, the beach snacks for the lovely evenings and the full night party locations that let you go wasted.
Make new Connections: Venture out, and you'll make new connections and maybe great friends for a lifetime. Goa is stress-free and makes people happy. There is a wave to the togetherness that connects Goa, and you can feel it once you start exploring the
Enjoy Beach Vacations: Beaches are perfect for a retreat. Our body is 80% water, and majorly this is why we have such a strong connection with water.
Love Partying: There is magic when you're not being judged. There is magic when you dance like crazy with a stranger. There is magic when love is made without expectations. There is magic when you create memories you can hold on to for the rest of your life. And this is why Goa is for you to explore.
Like Solitude as Well: Partied hard? Now want to unwind into the green solitude? Goa has something that will make you fall for her. There is balance, there is serenity, and most importantly, there is life in Goa.
Hate Winters: If you hate winters, then there isn't a better place in India than Goa. It can get a little humid during the rainy season, but otherwise, stay away from it throughout the year and enjoy the little chills of December.
Best Places to Retire and Live in Goa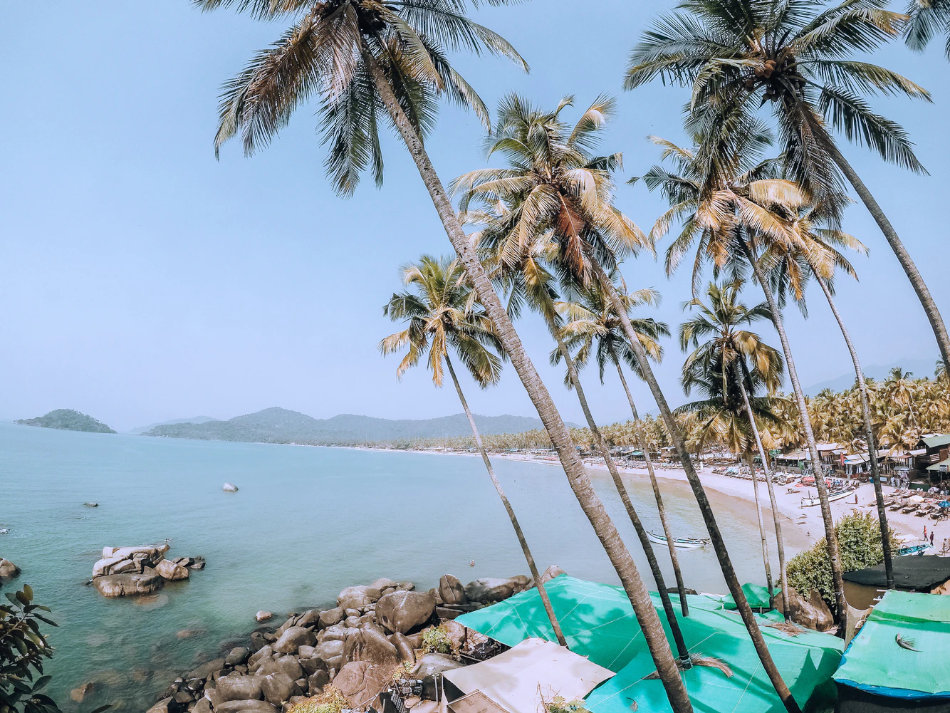 Here are some of my top picks if you're planning to retire and live in Goa. Goa is broadly divided into north, south and extreme south. While South Goa is more peaceful and less crowded, North Goa provides the true experience of staying in Goa. Although I have got a house in South Goa, I would prefer living in North Goa because of the close proximity to all the happening beach parties and exclusive tourist attractions. The places listed below have some nice villas, and apartments and are near places you'll enjoy. Now, when you are in Goa for the next time, do make sure to check out these places, the apartments, the bungalows, and villas.
1. Panjim: Best Place to Retire and Live in North Goa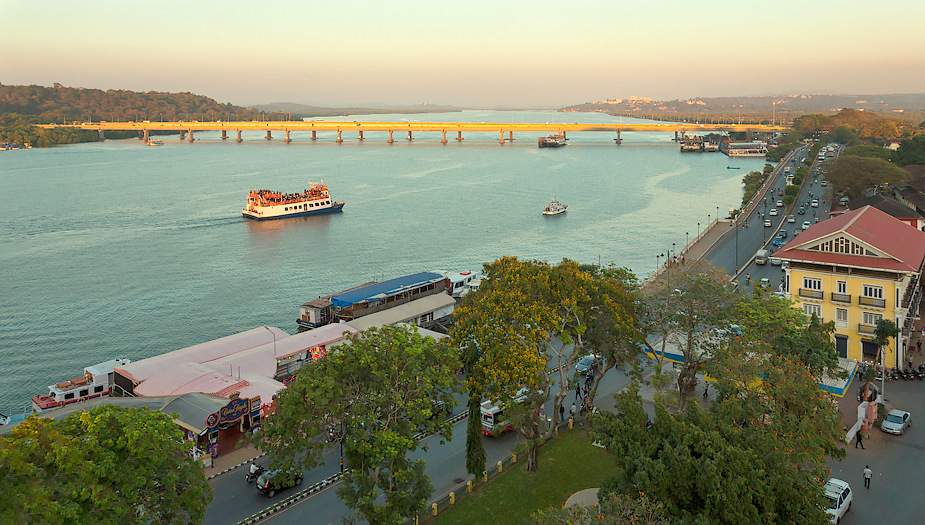 Panaji, also known as Panjim, is the state capital of Goa in southwest India. Located on the banks of the Mandovi River, the city has cobblestone streets lined with colourful villas and buildings from the Portuguese colonial era. Palm-fringed Miramar Beach sits at the confluence of the river and the Arabian Sea. Set on a hill overlooking the city is the baroque Our Lady of Immaculate Conception Church, built-in 1619.
Explore: Cruise and Poker, Miramar beach, Take a walk, Visit Churches
Eat Out: The Blackship Bistro, The Fisherman's Wharf,
2. Vagator and Anjuna: Best Place to Retire and Live in North Goa
Vagator Beach is the northernmost beach of Bardez Taluka, Goa. It is located on the opposite bank of the Chapora River from Morjim in Pernem. To the south of Vagator is Anjuna, one of the first hippie haunts of Goa. Vagator Beach has dramatic red cliffs looking down on the shore and two freshwater springs within a stone's throw of the sea. But Vagator has little by way of seaside accommodation. Vagator Beach Goa 180 Panorama Vagator Beach is split into two main beaches by a coastal headland that holds the car park and lots of stalls selling trinkets, clothes, soft drinks and snacks. As you face the sea, on your right is North Vagator Beach (Big Vagator) and on your left is Ozran Beach, more commonly known as Little Vagator Beach.
Explore Beach shacks, party places,
Eat Out: Thalassa, W, Artjuna Garden Cafe, Eva Cafe
3. Reis Magos: Best Place to Retire and Live in North Goa
Reis Magos is a village located on the northern bank of the Mandovi River in Bardez, Goa, opposite the capital city of Panjim. The town is famous for Goa's well-known structures; the Reis Magos Fort and the Reis Magos Church – the first church in Bardez. Reis Magos is the Portuguese name for the Three Wise Men from the Bible.
4. Candolim: Best Place to Retire and Live in North Goa
Candolim is a census town in North Goa and is located in the Bardez taluka in the state of Goa, India. It is situated just south of Calangute Beach and is a tourist destination. It is less congested and has better plans than the other beaches of Goa.
5. Nerul: Best Place to Retire and Live in North Goa
Nerul is bordered by the river Mandovi on one side. The Mandovi river flows into the azure waters of the Arabian sea, overlooked by the village. On the inland side of Nerul, there are lush green fields and the waters of the Sinquerim rivulet that again empty into the river Mandovi. The village is surrounded by the tourist villages of Sinquerim and Candolim, which makes it a well-known tourist spot too. The historic towns of Verem and Reis Magos also sit next to Nerul on the river's edge.
---
6. Assagao: Best Place to Retire and Live in North Goa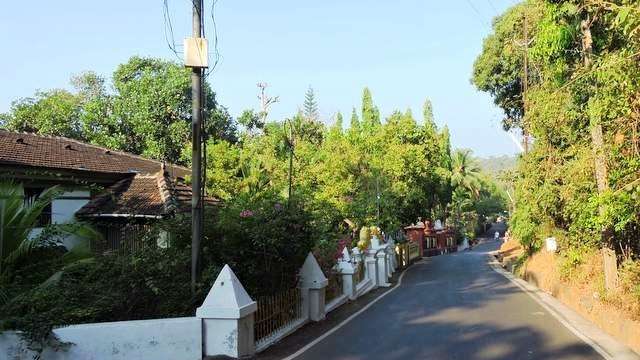 Assagao is a village in Bardez, Goa, located about 4 kilometres west of Mapusa. Assagao is known as the Land of Flowers. The village is surrounded by hills. From Mapusa town, the road u-turns uphill and, while descending the pass in the small plateau, splits into two parallel roads: one which proceeds straight along with the St. Cajetan Church, Assagao Union High School to Anjuna and the other, which passes by Pallottine Seminary and Panchayat Office straight to Badem. The popular beaches of Anjuna and Vagator are to the west of Assagao.
Property Cost in Goa: Land, Villas, Apartments
The current cost of a good bungalow or villa in Goa would be $300,000, whereas a luxury bungalow would cost you more than $500,000 (with a private pool). The per square feet cost varies depending upon the area and the contractor; however, makes sure you bargain to reduce the prices by at least 5-10% of the total property rate quoted. Buying land and making your own house can also be a feasible option, or you can check out the numerous independent contractors who build and sell villas in Goa. The typical property price in North Goa is approximately 30% more than most places in South Goa but offers more lifelong memories.
Average Living Cost in Goa
Your Ola/Uber expenses would be coming to nil. A bike works perfectly, and you'll be saving on the commutation costs. Beer, wine, and food are cheap in Goa. If you're not looking to buy a property, you can easily rent a villa for 30k to 50k and spend around 20k more for a perfect life. A maid will take not more than 3k-4k for a family, so you're all settled for 50k to 75k per month, depending upon your choice of stay. Dinner or lunch with a beer will cost you INR 1000 for two persons and around INR 2500 if you're going to a post and upscale restaurant.
Planning a Retirement in Goa: Explore the Lifestyle
Apart from parties and beaches, you should be expecting a minimal lifestyle in Goa. You cannot bag along with the vagaries of the city life here in Goa. There is not much to choose from; there are not many showoffs, and it's all about the simplicity and family life in Goa. It's just the basics through the year, with life becoming more happening around October to February.
Planning a Retirement in Goa: Explore the Party Places
Most of the party places and shacks operate for 6-8 months of the year, from September to March and get closed during the rainy season. Here is a list of some of the most popular and happening party places in Goa. Some of them do provide good quality shisha to make the night more enjoyable.
Titos
Club LPK
Hill Top
Larive Beach Resort
SinQ
Club Cabana
Cafe Lilliput
Shiva Valley
Thalassa
Best Places to Retire and Live in Goa: For Ex-pats and NRIs
If you're an NRI or Expat who is looking to retire in Goa for its topical summer, nightlife, and the mesmerizing new year eves, do make sure to check out these beautiful places in North Goa. If I had to choose between the two, I would prefer North Goa because of the party scenes, hookah, and all the fantastic people you'd eventually end up meeting. Also, if your friends are visiting Goa, you can host them and have a lot to offer if you're staying in North Goa instead of South Goa. As an Expat or an NRI, your choice of locations can vary based on your taste and preferences, but make sure you check out these places. Also, I would suggest you go with Vianaar Homes and negotiate to buy any of their bungalows that have a taste of luxury and are priced well (a bit on the higher side, though).
Panaji
Miramar
Vagator
Nerul
Reis Magos
Dona Paula
Is Goa a Good Option to Retire for LGBTs?
Goa can sound fancy with its global presence, but sadly, it is still not an LGBT vibrant city. There aren't many LGBT parties happening around the year, mainly due to the low density of LGBT people in the city. However, there are some parties in the month of December and special Saturdays. Also, LGBT dating is not prevalent in Goa as most of the people are tourists and visit Goa with their friends and family. So, if you're looking for regular dating scenes while staying in Goa, you should definitely consider a place that is close to beaches in North Goa. Another thought of concern is that most of millennials are choosing places like Bali, Thailand, for their December getaways due to the surge in flight fares for Goa, leaving it less dense even in the peak seasons of December and January.
Is Goa a Good Option to Retire for Singles?
I won't recommend Goa as an option if you're single and looking to stay or retire in Goa. The reason is, that Goa is still not a cosmopolitan city. The people in Goa bring in diverse flavours but are limited to specific months of the year. Life is secluded otherwise, and being single, you need your friends to be around you, but the majority of them will be in the cities they work, and you'll be left alone. But you can feel free to explore a few months in Goa and see how it works for you. Maybe you can consider an Airbnb for a month and pay INR 30,000 to 50,000 to check out if the city lives up to your vibes. If so, go ahead with your plans of settling in Goa.
Is Goa a Good Option to Retire for NRIs and Expats?
Goa is a perfect choice for NRIs and Expats to retire with their family. Remember, Goa is a place to celebrate, and you'll feel stranded if you're left alone. Call your friends, stay with your family and explore the culture and cuisine of Goa.
Is Goa a Good Option to Retire for Mountain Lovers?
No. Mountain lovers can really get bored with Goa as the temperature is something that can make you feel uneasy. It is a place for people who love water sports and also wouldn't mind a serene and simple life. You don't get to see a lot of people out there in the streets, and for a significant part of the year, the shacks and stores are empty. It is only during the seasons (October to February) that you see people flowing into Goa from across the country and abroad. Ideally, I, being a mountain person, don't enjoy much in Goa if I pass a stay of 15 days and more.
Goa, in a Nutshell, is for Party Loves and Those Who Love Minimalism and Beaches
For those living a minimalist lifestyle, there is nothing much they crave except the bare essentials on a day to day basis. If you're looking to improve the value of your life, learn new skills, explore cultural diversity, want to make new friends, love beaches. Goa can be a good choice for you! For those with too much glitz and luxury, Goa is only good as a travel destination.