The International Living Magazine puts Thailand at 11 on its ranking of the 25 Best Places to retire abroad. This ranking is based on a comparison of scores in several parameters that are of interest to expatriates moving to a different country, including the cost of living, healthcare provisions, rules for visa and residence, political stability, and development.
Anyone reaching their age of retirement would immediately appreciate the importance of costs of living and healthcare since retirement often indicates a cessation of active work. This does not mean retirees do not work. More often, they do and that's why International Living, in making their list, includes "opportunity" as a parameter — the opportunity to work, start a business, own a company, etc. Retirement is more aptly defined as a lack of the necessity to work than an absence of work altogether. Even better put, retirement is a state of mind, a phase shift from the age of productive and necessary work to one of slowing activity and adequate leisure.
Thailand happens to be the only Asian country so high up on International Living's ranking and anyone acquainted with the country's climate and economy shouldn't wonder why. Geographically diverse and with a long coastline, this Southeast Asian nation is gifted with many locations of exceptional natural beauty. But that's hardly the only reason. Long beaches, rainforests, sanctuaries, and scenic hilly towns — such attributes may be pleasing but they are not known by themselves to sustain life, least of all the life of a foreigner retiree.
Similar scenery to Thailand can also be enjoyed in the neighboring countries of Laos, Cambodia, and Myanmar. But if you have been following global politics recently, you perhaps know that it's an adventure of quite a different sort to be retiring in Myanmar! And if you're a westerner, you're perhaps still convinced they massacre people in Laos and Cambodia. Not the best place for spending the quieter years of your life, is it? Of course, Thailand is no panacea for democracy either. The Freedom House index has regarded Thailand as "not free" since 2014. The punishment for criticizing His Highness is also severe, anything between three to fifteen years. Do such facts bother you, monsieur? But I thought you just mentioned "quieter years of…" Then, fret not. Thailand is the perfect place for your old age. The economic situation in Thailand is excellent, even among the Asian Tigers, as is its governance. Recently, democracy has been restored partially. Thailand fares better than many countries in healthcare. In fact, it's ranked top among all Asian countries in terms of healthcare services. So, overall, it's not exactly bad for your quieter days, though you should keep an eye on local politics as you make the final preparations to relocate.
Now, coming to the best places to retire, I have curated a small list of cities in Thailand that you might consider. This list is by no means exhaustive. In fact, before you decide to make the final move, I suggest, visiting the country of your future home a few times, taking yourself to offbeat locations, and finding what suits you best. Do your own research, I mean to say.
1) Bangkok: Best Place to Retire and Live in Thailand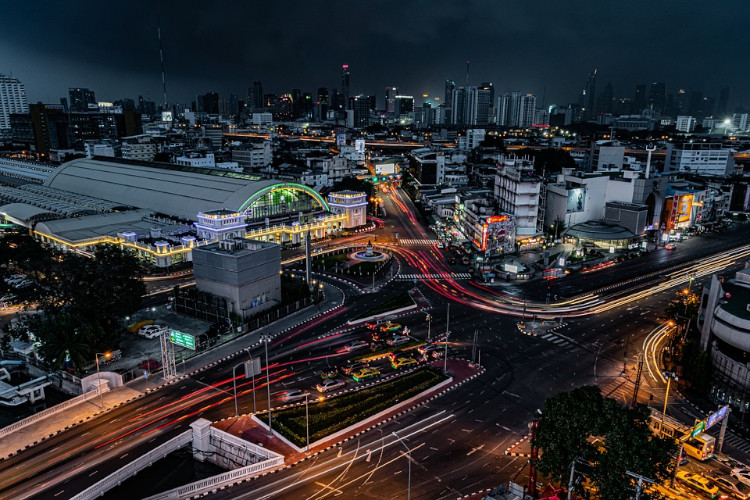 This is probably the one place in Thailand you couldn't have missed hearing about and, why not? The nation's capital city, Bangkok is a center of booming trade and commerce in the Asia-Pacific and Indian Ocean region. It's the richest and most populated of Thailand's cities, any day rivaling Tokyo, Singapore, Hong Kong, and other major financial centers of East and Southeast Asia. It's connected by direct flights to most parts of the world. Naturally, for anyone looking to start a business in Thailand or continue working in traditional sectors, it's an attractive destination.
Bangkok is certain to feel like home for someone accustomed to the rush of a metropolis. However, if a quiet getaway is your plan, that's perhaps not served very well-served here. The air is extremely polluted, housing is costly and traffic jams are a regular hassle commuters face. The population of Bangkok is 1.4 million, more than most major cities in the West. It has every characteristic of a bustling, dense megalopolis, and, sadly, the high-rises, embassies, and amenities are only one part of that urbanity. The rest is no different from what you and I are daily used to easy but claustrophobic lives in different parts of the world.
That apart, Bangkok is also a major tourist destination and home to a large ex-pat community, though not as many retirees live here as in another city to the north, Chiang Mai. The reasons are not hard to guess.
Things to do in Bangkok:
There are tons of things to explore in this busy city. Let's take a look at the top tours, attractions, and places you don't want to miss out on.
Wat Phra Chetuphon – Wat Phra Chetuphon is a temple where you will find the largest reclining Buddha statue ready to take your breath away. This 150 feet long statue is not the only eye-catching feature but the fact that the temple throngs with devotees and tourists throughout the day marveling at the beautiful temple ornamented with Buddha sculptures and glistening clean marble floors makes it one of the top attractions in Bangkok.
Inside the temple, you will find 108 bowls which represent the 108 auspicious traits of Budhha. Another account states that it also represents the 108 good deeds Buddha had to perform in his journey to attain perfection. If you are going temple hopping in Bangkok, make it your first destination!
Chatuchak Weekend Market- If you are a shopaholic and want to splurge a little on your stay there, Chatuchak weekend market is the best weekend getaway. This indoor and outdoor market covers more than 10,000 stalls and shops huddled together in a total area of about 35 acres. Pick a map and gear yourself to be overwhelmed because Chatuchak market has a lot to offer and is never asleep.
This market attracts thousands of people who browse through the shops looking for souvenirs, clothes, apparel, home accessories, plants, ceramics, and other trinkets.
Other places of interest- The Grand Palace, Temple of Dawn (Wat Arun), Jim Thompson House, Temple of Emerald Buddha (Wat Phra Kaew), and Temple of the Golden Buddha.
Culinary Tour for Thai- Chinese Cuisine lovers: Visit the old-school Chinatown streets filled with scrumptious Thai-Chinese cuisine stalls and restaurants. On your way, you will not only catch amazing sights but also appetizing bites to keep yourself replenished.
Take a soothing trip on a boat or a cruise along the Chao Phraya River: With ferries and river taxis skittling across the scenic Chao Phraya River, you can indulge in an affordable and relaxing trip. If you want an extravagant trip, night cruises are a perfect choice. You can enjoy a delectable buffet and a lavish stay there. You can also easily access the major city attractions from the river.
Eat out at Bangkok:
Be it snacking on street food or feasting in a fine-dining restaurant, the city claims to have multifarious food locales. You can take your pick from either Chinatown or Rattanakosin – both of which shine in their own traditional Thai-Chinese cuisine recipes. Here are some of the top-rated street venues and dining places:
On Luk Yun – For mouth-watering breakfast options.
Roti Mataba – Snack the pan-fried flatbread packed with savory fillings here.
Jay Fai – Drunken Noodles and Crab Omelets are their specialty. Arrive early to grab your spot in this popular street food venue.
80/20 – For a more refined culinary experience. Definitely try out the squid dish known as "Stormy Sea", and "Isaan Market" made with a delectable seasonal mushroom.
2) Chiang Mai: Best Place to Retire and Live in Thailand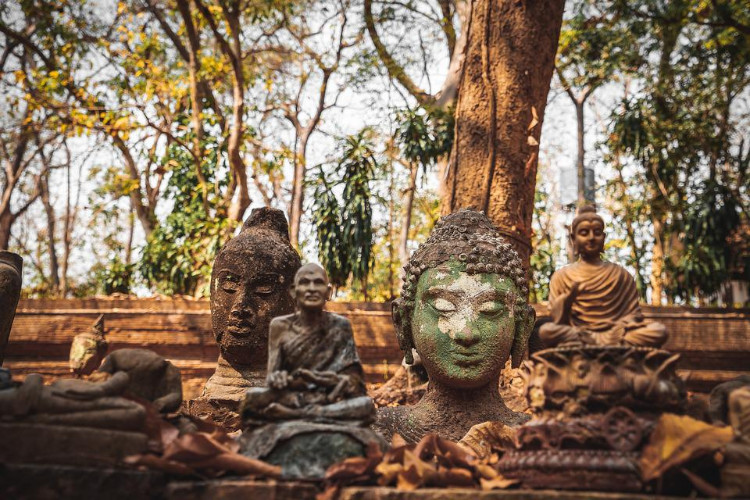 Regular trains between 6:30 am and 9 pm connects Chiang Mai to Bangkok. This mountainous city is slightly different from the capital, and in perhaps the best ways. While providing almost all amenities of modern, metropolitan living, Chiang Mai retains some of that old-world charm of the ancient Lanna kingdom which ruled this region between 1296 and 1558. Hence the word "lanna charm" is used to describe life here. Chiang Mai is one of Thailand's most popular tourist spots and while Bangkok and Pattaya might attract travelers for their cheap thrills, this city in the north, a center of Theravada Buddhism, is of major historical and cultural interest. The older part of the city has remnants of moats and walls built during the 12th century to resist Mongol invasions. The mountains around Chiang Mai offer a perfect hilly retreat to older people and retirees. This fast-growing, northern metropolis has a curious mixture of a relatively affordable, slow-paced, and peaceful lifestyle and the opportunities of a major urban hub. There are two problems, however: 1) Chiang Mai is not by the sea and it's also far from other coastal cities of Thailand, 2) The dense smog in winter, aggravated by the high altitude, poses a significant health risk, particularly for older residents.
Things to do in Chiang Mai:
Explore the Serene Wat Phra That Doi Suthep temple: If you loved the cultural tour around Bangkok, plan your next trip to Chiang Mai's cultural and religious landmark – The Wat Phra Doi Suthep. Located atop 306 steps, the temple is worth paying a visit to for its traditional architectural brilliance, impeccable Buddha statue collection, and truly magnificent view. The temple was established by King Keu Naone in 1383 with the purpose to treasure Buddha's bone shard.
Indulge in some jungle fun at Elephant Jungle Sanctuary: Who would have thought elephants could be this friendly? Enjoy a first-hand experience to frolic with friendly elephants in the Elephant Jungle Sanctuary. Connect with nature, and get ready for an exhilarating elephant bathing and feeding event!
An Up-Close Cultural Rendezvous on Loi Krathong Festival: Don't miss out on the dazzling Festival of Light, locally known as the Loi Krathong Festival celebrations. Chiang Mai is adorned with lights and lanterns during this festival which dates in the month of November. It is a breathtaking sight to behold. The festival is celebrated for 3 long days. The temples are illuminated. The sky throngs with lanterns. Loi Krathong festival brings with it much joy, promise, and hope.
Activities at Chiang Mai:
Chilling Chiang Mai Night Safari: Night Safaris through the darkness of the jungle is the most exciting activity if you are into suspenseful thrilling adventures. This comes with no real danger but every second of silence is filled with much anticipation. The Night Safari is done through three-zone tours usually known as the – Savanna Safari, Jaguar trail, and Predator Prowl. If you are lucky, you will soon see Tigers, Pumas, and lions parading or resting in the wilderness. The night Safari parks also offer light shows and other entertainment.
Eat Out at Chiang Mai:
Chiang Mai offers tons of delicious local cuisine options which you must discover if you are a foodie. The old city seems to be huddled with eating places all over and even in the villages, farmland situated beyond the city borders. Here are some of the reputed dining places that you must drop by during your stay:
Huen Phen: If you want to explore the city's special Lanna dishes, visit the old-school restaurant, Huen Phen which specializes in the best Khanom jeen Nam ngua (Rice noodles topped with beef stew), sai ua (Lanna special sausage). This place is also extremely easy on your pocket.
Guay Tiew Pet Tun Saraphi: Enjoy the best namesake you will ever have in this place.
Blackitch Artisan Kitchen: Enjoy fine dining with Chiang Mai's indigenous flavors prepared for you in a cozy, home setting.
Seoulmind: This ranks as the most instagrammable place with its humongous Chicken palate filled with massive amounts of Korean fried chicken, salad, cheese, and sauce for flavoring.
3) Phuket: Best Place to Retire and Live in Thailand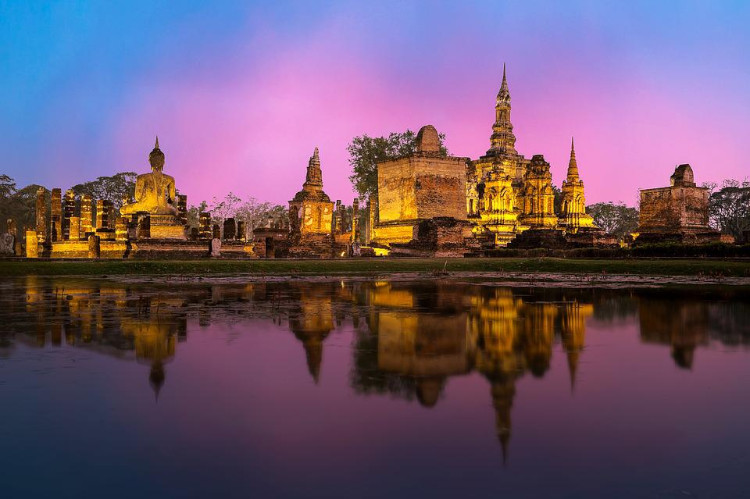 This island is perhaps best known for its insanely lively nightlife. But there's a lot more to Phuket than what is usually popular among tourists. Being Thailand's largest island, this place can be as quiet and comfortable a retreat as it can be a raunchy getaway for pleasure-seekers. With pristine beaches, secluded coves, quiet sea-facing villas, and the endless monotony of waves breaking on the shore, this island on the Andaman sea might be an ideal place to spend the rest of your days.
Real estate prices are considerably lower in Phuket than in Bangkok, as are costs of living, particularly if you shop in local markets for your daily needs instead of visiting international grocery chains. Affordable healthcare of international standard is assured, both in the public health system as well as the Bangkok Hospital, which has a branch in Phuket Town. The island is near the equator and remains warm and humid throughout the year, similar to most other places in the southern part of the country.
Things to Do in Phuket:
Visit Phang Nga Bay: Sheltered in nature's lap, Phang Nga Bay offers a deep connection with nature. It is a cluster of beautiful islets accompanied by the glistening green water of Khao Thalu where you can row a canoe, and seek to explore the famous James Bond Island and Ko Panyi fishing village.
Visit the mesmerizing landscape of Phi Phi, Maya Bay, and Pileh Lagoon: Surrounded by crystal clear seawater, this lagoon has a beautiful bed of colorful coral reefs underneath. You could also spot multicolor fishes swimming about underneath. The white-sand beaches serve as a soothing retreat from the colorful cityscape.
Eat out at Phuket:
Discover the best culinary delights while taking in the view of the lapping waves and enjoying the gentle sea breeze in the following places:
Mom Tri's Kitchen Royale – Surrounded by scenic vibrance, this place is situated at Villa Royale located in the aesthetic Kata Noi Beach. The resort is nothing short of a marvel with its state-of-the-art decor and an unmatched location. Built with terracotta floor tilings, this fine dining place offers majestic views out over the beach and the Andaman Sea. The menu is extensive and serves traditional dishes with a hint of modern influence.
Black Ginger Phuket- Situated at The Slate Resort, this island restaurant offers a 360-degree view of the lagoon and limestone walls all around. You can reach here only by boat, which might cost a pretty penny, but it's worth it if you want to enjoy the premium view and top Thai dishes cooked with traditional recipes in a modern way.
La Gritta – Situated at Amari Phuket, at the southern end of Patong Bay, this restaurant is a gourmet haven. The view includes the calm water of Patong Bay. The best time to visit is during sunset.
4) Pattaya: Best Place to Retire and Live in Thailand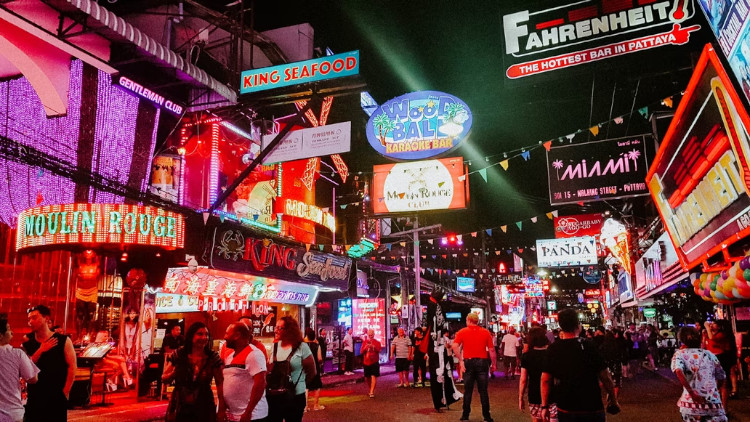 A bustling coastal city, Pattaya is Thailand's second most frequented destination after Bangkok. Located 140 km away from Bangkok, Pattaya is considered the tropical paradise for expatriates. Pattaya is famous for its exotic nightlife and enthralling adventure sports such as water skiing, swimming, windsurfing, sunbathing, sailing, or planning trips to nearby Islands. But, the city is also extremely affordable. This party town is very economical to live in and offers an amazing quality of life at a minimal living cost. Especially, with the Thai currency exchange rate being eerily close enough to the American dollar, one can spend an extravagant vacation there without having to break the bank.
If you reside in the Western region where it's cold and freezing almost all year round, Pattaya's climate will be a welcome change for you and a very comfortable alternative for retirees. Retiring in Pattaya is like vacationing each day. There are so many places, events, and activities to explore in this coastal city that you will never get sick of living there. You can also look forward to buying condos which come with really handy facilities for retirees such as Gyms, saunas, pools, yoga centers, etc. To top it all, Pattaya's healthcare facilities are classy. They offer a lot of facilities to foreign retirees including health insurance which is cheaper than in other countries. The city is also booming in its infrastructure area which gives you the opportunity to buy property or holiday homes which could be a good investment.
Things to Do in Pattaya:
Sanctuary of Truth: This 105 meters tall monument is completely made of wood and portrays the inner truths of life by paying homage to ancient philosophies and religions. This monument is also proof of exemplary Thai craftsmanship.
Koh Larn: Koh Larn is a peaceful respite from the busy Pattaya streets and beaches.
The Cabaret Shows: The Alcazar Cabaret takes pride in its extraordinary glamorous performance by Vegas-style cross-dressing drag queens.
Other places to visit: The Walking Street, Big Buddha Temple, Floating Market, Terminal 21 Pattaya.
Eat Out at Pattaya:
Here is a list of the places you could enjoy some quick bites or full meal in Pattaya-
Robin Hood Tavern
Tarka House Restaurant
Cafe des Amis Dining
Horizon
The Bistro
Maharashtra
The Big Fish
5) Koh Samui: Best Place to Retire and Live in Thailand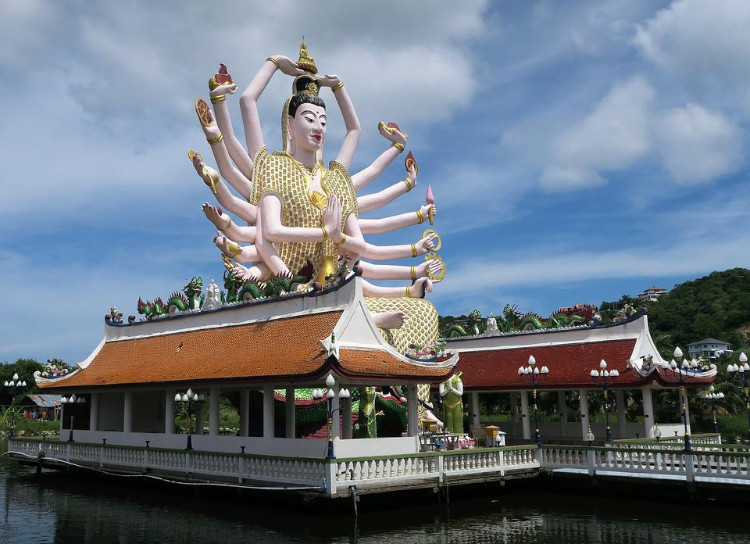 Recently named as one of the best-handpicked islands to retire in, Koh Samui is a beautiful tropical island dotted with white beaches and an idyllic environment away from the hustle and bustle of the metropolitan. The city is also distinct from other choices with its affordability, quality lifestyle, moderate climate, and good healthcare. While it is one of the most peaceful places in Thailand to retire in, it also offers other perks such as a quiet, simpler way of life, a strong community, and tranquility. Settling in Koh Samui is affordable without any compromises made on the front of quality of life. There are also a bunch of activities retirees might be interested in participating in such as – sailing, golfing, boating, Kayaking, and walking across the empty beaches. To top all of that, Koh Samui is well connected to other parts of the world through air transport. Koh Samui has 4 private hospitals whose facilities are top-class. The hospital staff can communicate fluently in English.
Things to Do in Koh Samui:
Angthong National marine park- Visit this 42-island archipelago surrounded by the Rocky landscape, crystal clear lagoons, jungles, and beautiful waterfalls. This massive marine reserve is brimming with Thailand's natural splendor.
Wat Plai Laem – In this quaint little destination, you will find a lot of temples. The most pleasing out of all is Wat Plai Laem which is an 18-armed statue of the Goddess of Mercy and Compassion in the Thai culture known as Guanyin.
Other places of interest: Na Muang Waterfall, Secret Buddha Garden, Wat Khunaram, Lamai Beach, and Bo Phut Beach.
Eat Out at Koh Samui:
Had Bang Po restaurant- For a perfect seafood lunch.
The Jungle Club
Dining on the rocks – a beautiful open-top restaurant with an equally pleasing mountaintop view.
Tree Tops Sky Dining & Bar
6) Hua Hin: Best Place to Retire and Live in Thailand
Far from the insanely commercialized Thailand cities, Hua Hin is an expat-friendly quaint little coastal town that offers the best of both worlds – the insane city life and peaceful nature connect. This destination has been often referred to as the perfect place for retirement. Hua Hin is a 3-hour long drive from Bangkok and is not that far from the metropolitan city amenities. You'll also find international restaurants and local street food stalls alike.
Things to do in Hua Hin:
There are several popular beaches in Hua Hin including Pranburi Beach, Khao Takiab Beach, and the main Hua Hin Beach.
Cicada Market- Stroll the gorgeously adorned streets of the Cicada Market during nighttime. You will find awesome food options and trinkets at affordable prices.
Hutsadin Elephant Foundation – Take bareback elephant rides and experience the wildlife very closely by bathing, feeding, and walking with elephants.
Other places of interest- Hua Mongol Temple, Hua Hin Beach, Monsoon Valley Vineyard, Tamarind Market.
Eat Out at Hua Hin:
Vana Nava Sky Bar & Restaurant
Siam Bakery
Monsoon Valley Wine Bar
Rim Nam
7) Ao Nang: Best Place to Retire and Live in Thailand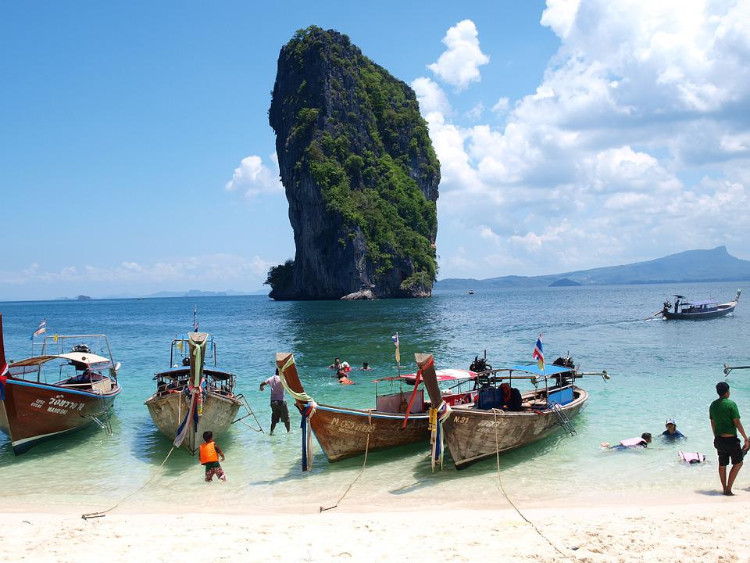 Situated in Thailand's southern province, Nang adjoins the shimmering blue waters of the Andaman sea. When you arrive in Ao Nang, Krabi, your eyes will meet a beautiful blue ocean and limestone islands, outcrops jutting out. Ao Nang offers you countless views and adventures that ex-pat retirees would love to indulge in. Healthcare needs are not as prominent as in cities like Bangkok, and Pattaya. New international hospitals are opening up in Nang and healthcare is gradually becoming more accessible. The night market in Ao Nang is also quite entertaining and offers a whole range is cuisine options to try out.
Things to Do in Ao Nang:
Bamboo Island – Walk through the empty sandy beach of Bamboo island taking in the view of the tranquil Emerald waters.
Railay Beach – Surrounded by lush green jungle and steep cliffs, the beautiful landscape of Railay beach will keep you hooked.
Wat Tham Suea (Tiger Cave Temple) – Legend has it that a tiger once lived in this cave and it's now the Wat Tham Suea monastery's main hall.
Other places of interest: Krabi hot spring, Emerald pool, Blue Pool, Tonsai beach.
Eat Out at Ao Nang:
Jungle Kitchen – Devour authentic local cuisine in this affordable restaurant.
Bussaba Thai Restaurant
Ton Ma Yom Thaifood Restaurant
Jenna's Bistro & Wine
With such exciting options, it might be difficult for you to decide where exactly you want to move to live in Thailand. Here's a little suggestion: always visit any of the places mentioned above yourself; whatever suits you, you can try renting a house locally and stay for a few months, preferably a year, in that same place before you can be sure it's the best suit. A little common sense can save you considerable money and time loss, not to speak of the disappointment of having bought a house in a part of the country that, over the next several months, you discover is ill-suited to your tastes and needs.