In times like now, the market is changing drastically, the inflation rate is constantly increasing, and has global effects. It makes it mandatory for everyone to have a full-proof plan to secure a future.
After you have achieved financial security, retirement does not happen automatically. You have to start saving as soon as you can to make sure that you can have a comfortable life when you retire. To do that, you have to make a plan, commit to it, and save money strategically. You could get in touch with financial advisors or planners or retirement managers, who can help you design a future, or you can take one of the best retirement planning courses and manage your future on your own.
Table of Contents:: Summary
hide
Benefits of Taking the Best Retirement Planning Course
Most people do not know how much money they should save to properly prepare for retirement, which means that most people wait until it is too late to start planning for retirement. There are various benefits of signing up for a course:
You will gain the most important skills and knowledge that you need to master basic financial and retirement planning. These courses teach you different methods of retirement planning and show you the tools that must be used. A good course will discuss the different personal finance software available and how to set up investment accounts.
Such a course will show you the importance of starting small and give you a chance to witness your money grow. Once you become comfortable with retirement planning, you will be able to implement what has been taught in the courses.
Your financial plans have to be revisited over time. Your plans have to be updated or adjusted as the circumstances change. As you grow older, your plan and strategy will most likely change. A course will teach you how to adapt to the changes and make the most of your retirement funds.
The biggest advantage of these courses is that they will not just help you plan your retirement but also help you review your past savings and spending habits, which will help you build a strong foundation for your future.
Best Retirement Planning Courses to Try in 2023
Here is a list of the 10 best retirement planning courses to try in 2023. These courses will help you secure your investments and help you with proper retirement planning.
1. Planning for a Secure Retirement by Purdue University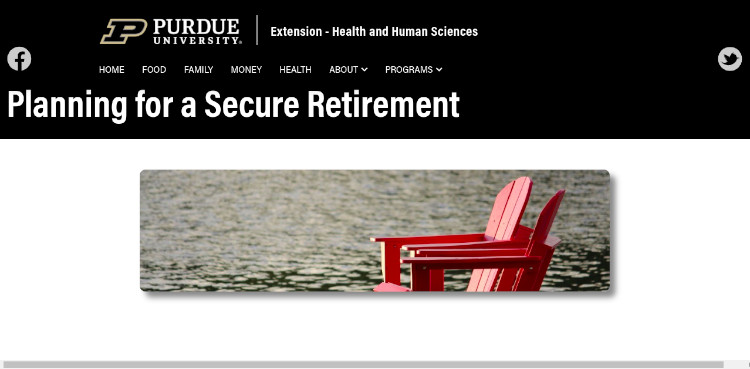 This course provides information that can be valuable in answering the questions you need to consider as you make your retirement plans. The modules include specific goals for the module, activities to complete, and sources. This course will help you eliminate your fear of planning for retirement. It has ten modules, each with a different objective. The course is perfect for beginners who have no experience in this or planning knowledge.
2. Suze's Personal Finance Online Course by Suze Orman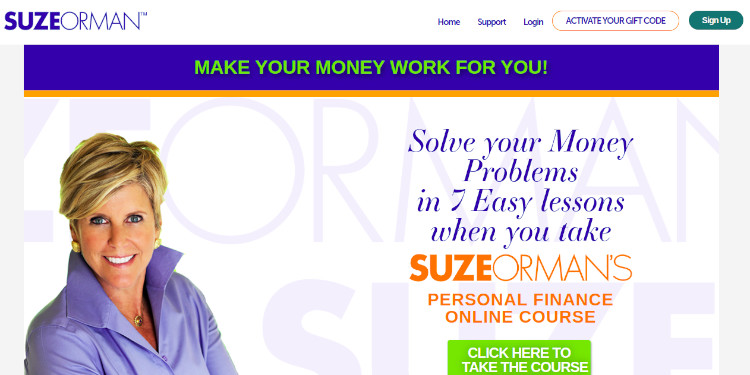 This course is taught by Size Orman, the leading expert on personal finance and the number-one New York Times best-selling author and online columnist. You will learn about how to pay off debt, what kind of life insurance products you must buy, and the best way to invest your money for retirement. This course is rather perfect for beginners who wish to learn the basics of managing their financial affairs. The course will cost you $54.
3. Financial Peace University by Dave Ramsey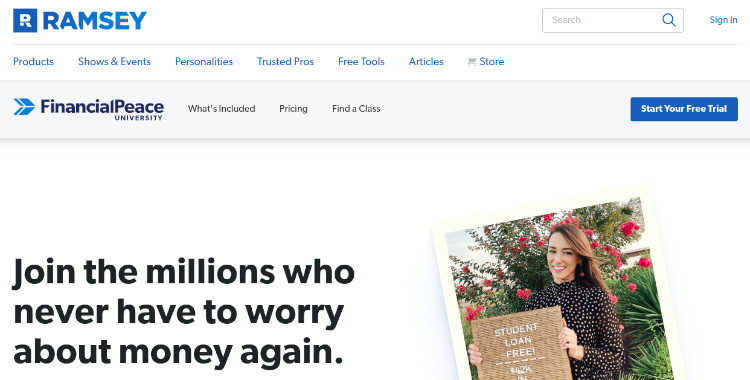 This is another perfect course for beginner investors. It is taught by Dave Ramsey, who is extremely famous in the financial planning world. He has a lot of experience in getting people out of debt and helping them plan for retirement. This is a 9-class course, where you will learn about how to build wealth and get access to EveryDollar Plus, the budgeting app that helps you track your expenses. This course will cost you $129.99.
4. The Step-By-Step Guide to Your 401K Plan by Austil Abell, Glass Jacobson Financial Group, Jonathan Dinkins CPA/ PFS on Udemy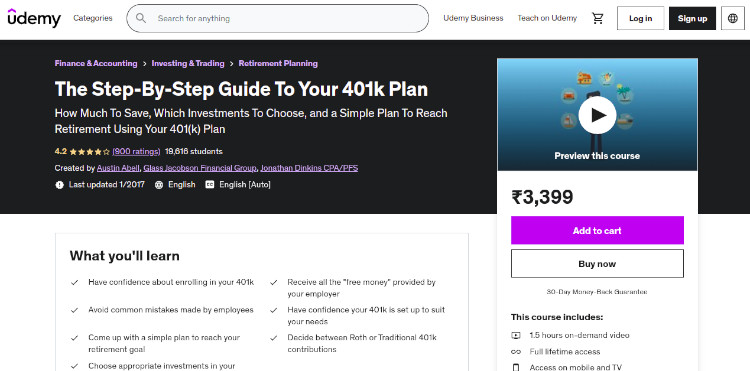 This course will help you come up with a simple plan to reach retirement using your 401k plan. They will walk you through the whole process of enrolling and maximizing your 401k using easy-to-understand white-board animation videos. They will take you through why you should care about your 401k, how much to save, which investments to choose from, and how to get all the free money your employer is offering you. This is a step-by-step course that simplifies the entire 401k process and is taught using simple terms. They address your misconceptions about investing and answer the most important questions. They provide you with the foundation you need for successful investment. They provide free access to a custom-built 401k buddy for the Udemy site that walks you through choosing investments in your 401k. They teach you how to invest in the right set of options and make sure you get all the free money that your employer avails.
5. Ultimate Retirement: Build Your Own Dynamic Retirement Plan by Margin of Safety Investing on Udemy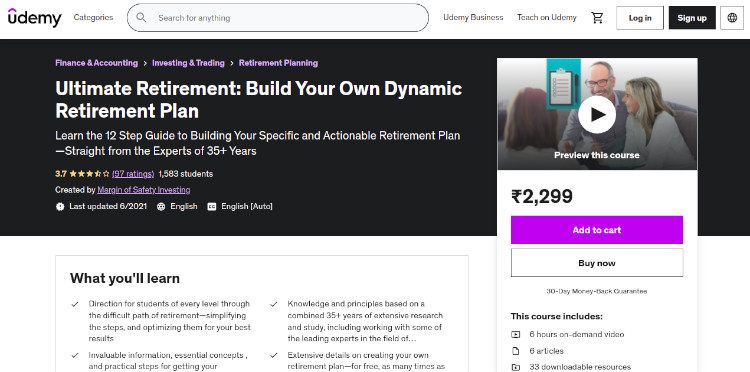 This is the 12-step guide to building your specific and actionable retirement plan, which comes straight from experts of more than 35 years. This course helps you correctly answer the most common question- how much you need to retire. By the end of this course, you will be able to immediately create your own retirement plan, adjust it to your scenario, and know exactly the steps and process you will need in order to secure your ideal retirement and adjust it according to the changing situations. You can ask them questions and see their answers to all students through the exclusive class discussion boards. You receive instant access to the full course materials, along with constantly updated lectures. This is material directly from the two instructors' over 40,000+ hours of experience and backgrounds in the financial and retirement fields. This course is the financial answer that you have been waiting for.
6. How to Build a Massive Retirement Plan from Scratch by Scott Brown on Udemy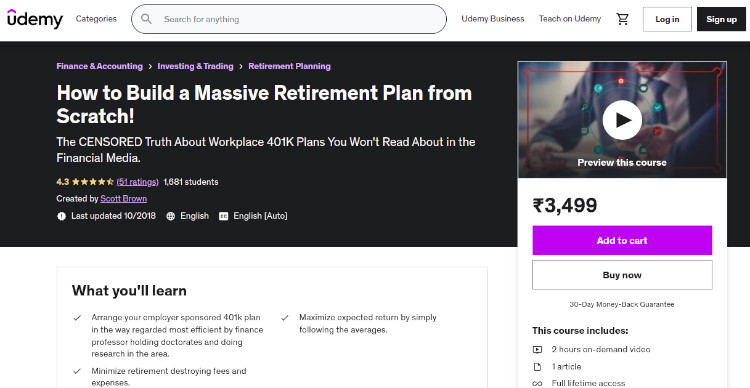 This course unravels the censored truth about workplace 401K plans that you will not read about in the financial media. The instructor will teach you how to carefully determine whether you should just say "no" to your current employer-sponsored 401(k) plan and how to identify the lowest-cost mutual funds in your plan. They will help you develop a realistic approach to all of your retirement income streams and show how to set yourself up to take Social Security benefits. They will also cover the best places you can retire in to thrive while outliving your assets. This course will help you identify different alternatives and options that you have for planning for your retirement through investments and saving measures.
7. Retirement Planning Bootcamp Course by Tom Vilord on Udemy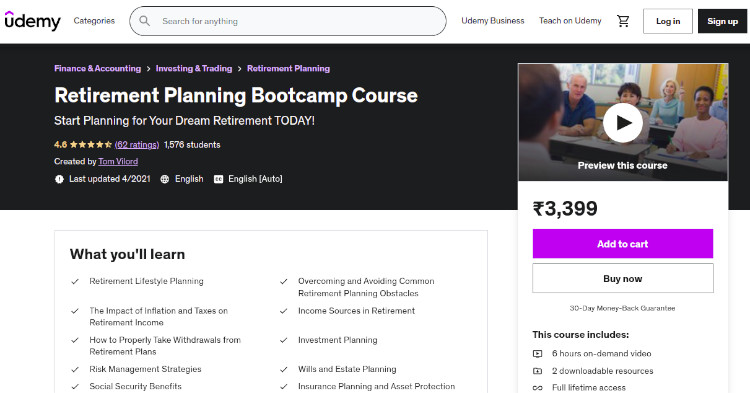 This course is designed for people who are getting ready to retire or recently retire. The Retirement Planning Bootcamp Course will show adults ranging from ages 50-65 how to properly plan for retirement. The course will teach you how to determine the amount of money you will need to retire and decide which social security benefit is right for you. The course will help you eliminate debt and improve cash flow and properly convert your IRA to a Roth IRA. The course helps select the retirement plan distribution choice that is right for you and plan your retirement income to preserve a comfortable standard of living. The course also helps transfer the risk of potential financial losses before and during retirement.
8. Online Class: Retirement Planning by Universal Class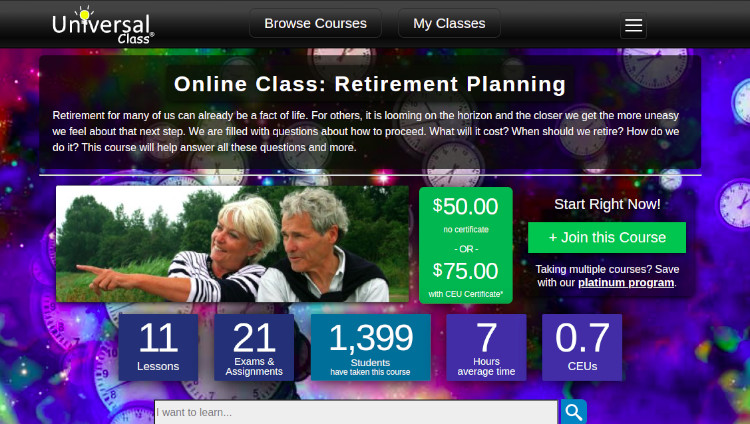 This course will answer your basic questions about retirement planning and give you a place to start. It will discuss your financial concerns regarding IRA's, insurance, and what you should do with your house. It will make specific health recommendations to maximize your physical condition during retirement. They will talk about how to prepare for retirement and what you will do with your time. So, essentially this is a true retirement planning course by all means that helps you plan your retirement in terms of financial planning, health, and emotional well-being.
9. Retirement Planning Certificate Program by AICPA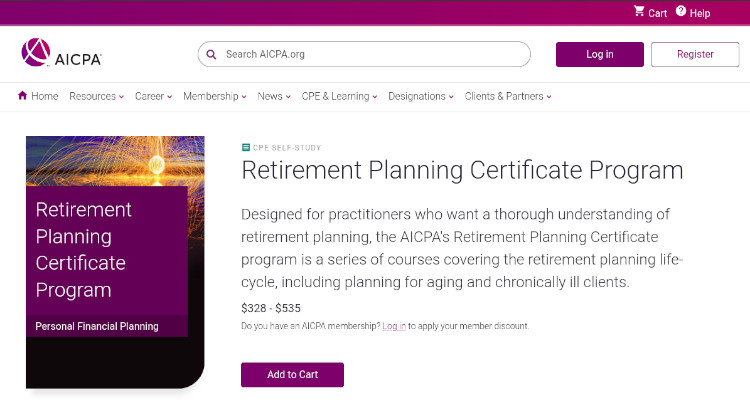 This course has been designed for practitioners who want a thorough understanding of retirement planning. This is a series of courses covering the retirement planning life-cycle, including planning for ageing and chronically ill clients. It covers the core areas of personal financial planning (PFP), including retirement, estate, risk management and insurance, and investment planning, and how tax planning relates to each area. The program is a combination of education and a certification exam that gives you the opportunity to enhance your knowledge and demonstrate competence in that specific discipline.
Roundup
If you are planning to retire, you will have many more tools and services available. It is good to take one of the best retirement planning courses to better your awareness, even if you already have a retirement plan in place. As you start to plan your retirement, you must take advantage of the best retirement planning tools to help you stay on track. You must remember that simply following everything taught in the class will not be the best move for you, and you must consider your age, debt, savings, and such. You have to learn how to apply the tools and lessons learned in the context of your financial situation. You will become a self-taught expert, and you will always be able to learn by taking more courses to add to your knowledge.