The old age eastern tradition, which was at the heart of the family care system and involved the young and the very old, diminished as joint families began to disintegrate in the previous century. Young individuals in their prime working years now lead such busy lives that it is difficult for them to offer their aging parents the attention they require. However, now is the moment when their parents require the greatest level of tenderness and caring to get them through their latter years.
Aged parents may feel abandoned, undesired, or like a burden in their children's increasingly stressful life. This isn't necessary. Elderly people's dignity, rights, needs, and aspirations can be respected and met, just like when they were younger, if they are in the right old age home.
The concept of "old age homes" may be distressing to many elderly people since it has been ingrained in society for so long in such a way that, when seniors hear the term, they think of loneliness, abandonment, estrangement from the bloodline, and less care and safety. Over the last few decades, India's old-age homes have become a shelter for the helpless and dependent. Finding dignity and freedom would be challenging because only a few old-age homes provide enough care seniors deserve.
How to Choose the Best Old Age Homes in Bangalore
The concept of "best" is very subjective. Here are some of the things you must keep in mind before looking for an old age home:-
Hygiene
Medical Facilities
Number of rooms
Rating of the Old Age Home
Entertainment Facilities
Nursing Services
Behaviour of staffs
Meals they provide
Area of the rooms
Budget
7 Best Old Age Homes in Bangalore: 2023
Here is a list of the best old-age homes in Bangalore that you can take a look at.
1. Sumukha Old Age Home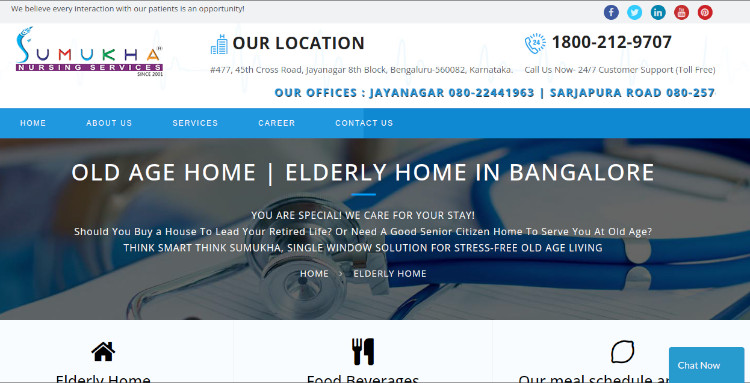 With a high degree of care, Sumukha offers senior citizens a safe, pleasant, and calm environment. One of the top senior care facilities in Bangalore, Sumukha, has senior residences in Marathahalli, Sarjapur Road, and Jayanagar. The senior citizens' residence in Sumukha is designed to provide top-notch assisted living. Modern amenities for food, recreation, fitness, and healthcare are available at our facility for the elderly. Senior citizen housing provided by Sumukha is situated in a tranquil area away from the busy city streets.
Amenities:
LED TVs with a DTH connection
Rooms with Wi-Fi connectivity
Emergency call points
CCTV cameras
Anti-skid flooring
Panic buttons in toilets and bathrooms
Brightly, airy, ventilated rooms with adequate privacy
Regular housekeeping and maintenance
Common laundry area
Walking tracks for senior resident
24/7 senior assist care
Round-the-clock ambulance service
Regular monitoring and checkup
Tie-ups with some of the leading hospitals
Cafeteria with dining facility
Library and meditation zone
Team activities like singing, dancing, and movies.
Class and group discussion on various health problems.
Cognitive skill Maintainance by art and craft and hobbies.
Cost: Affordable, registration fees for nursing minimum 3500.
2. Elders Heaven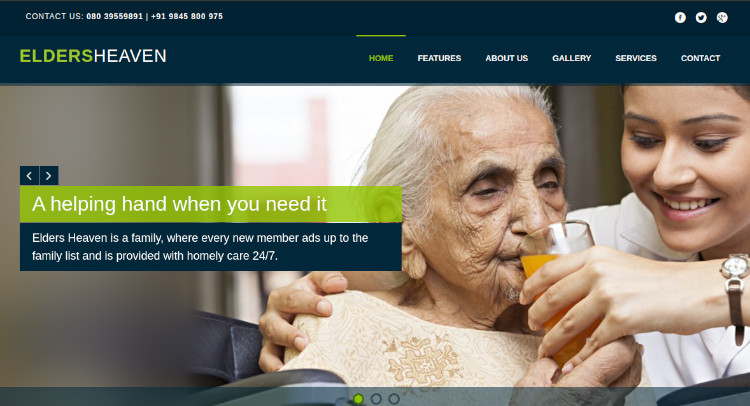 Elders Heaven is in Regency Park Nageshwara Nagenahalli, SRK Nagar post, RK Hegde Nagar. It is A home of safety, security, love, joy, and utmost care for elderly people so that they enjoy their second innings of life to the fullest. Elder's heaven was developed from the idea of helping elders, especially those who have dementia, paralysis, or suffering from any such kind of medical condition. Elders Heaven is a family where every new member adds up to the family list and is provided with homely care 24/7.
Amenities:
24 hrs nursing assistance
Doctor visits on call
Visit Temple/Church once a month, and different spiritual activities are performed.
Indoor Games & Puzzles
House keeping maintenance
24/7 internet supply
Uninterrupted power backup for 8 hours
Television, DVD, Newspaper, Books, etc. available
Laundry facility
24 hours catering services with pure veg food
Cost: Transparent Costing, both Card and cash available.
3. Athulya Assisted Living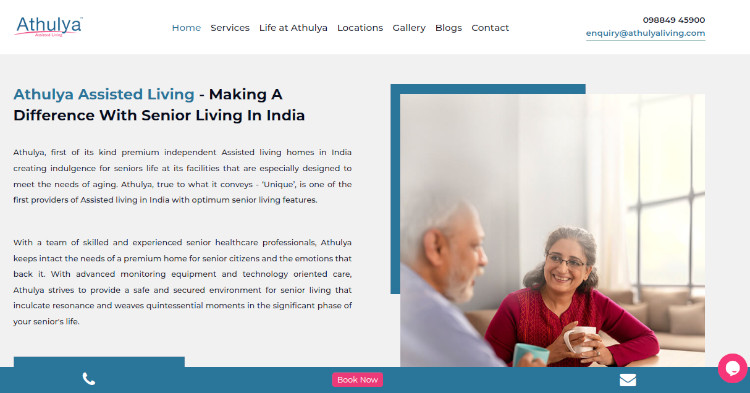 Athulya Assisted Living is a luxurious old age home with five years of experience. They have a pleasant atmosphere that allows the elderly to age gracefully while making every moment memorable. Seniors will have specialized personal assistants who will take proactive care of all their requirements. Seniors will be able to meet people of their age and interests here. Everyday life at Athulya would be like exploring the shelves of a library full of excellent books. The great information is shared through the minds of notable people and veterans who live under one roof. This makes seniors living at Athulya more valuable and enriching than staying in an old age home. Daily exercises and engagement sessions address their physical needs, while conversations among elders keep their minds busy.
Amenities:
Spacious rooms
Senior-friendly infrastructure
Regular Checkup and monitoring facilities
Multiple activities and engagement
Physiotherapy room
Open garden with a temple
Cost: Affordable
4. Sudhama Old Age Home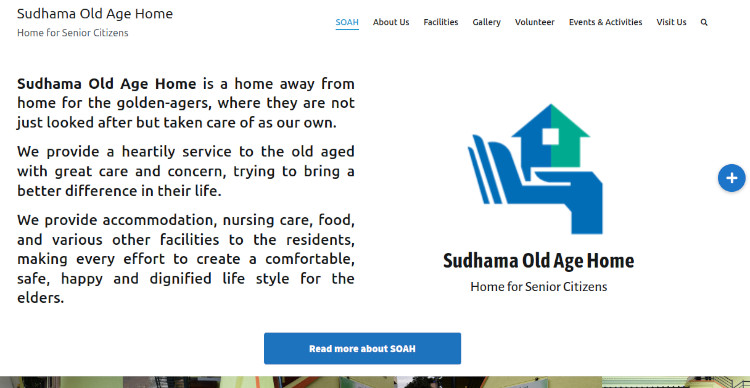 A division of the Gurusudha Foundation is the Sudhama Old Age Home. In 2015, they began their mission to help senior adults with the goal of giving them the love, care, and support they most desperately need. They provide a hearty service to the old aged with great care and concern, trying to bring a better difference in their life. They provide accommodation, nursing care, food, and various other facilities to the residents, making every effort to create a comfortable, safe, happy, and dignified lifestyle for the elders.
Amenities:
Homely Atmosphere
Pure Veg food
Full-Time Cook
Cleanliness and Hygiene
Special Care for bedridden
Events and programs
Entertainment and WiFi
Laundry and Housekeeping
Doctors on call
Cost: Rs. 10000 rates with Rs. 30000 deposit.
5. VLN Prabuddhalaya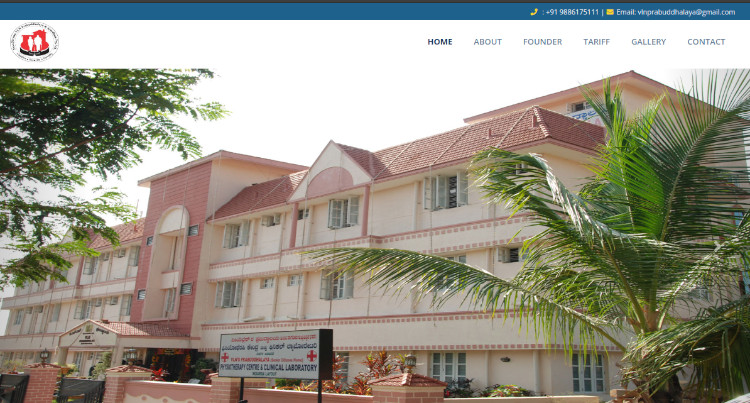 Nava Nirman VLN Prabuddhalaya & Ayurdham Pvt., Ltd., is an incorporated Company, approved by the Govt of India, Ministry of Corporate Affairs under the Companies Act 2013. It contains a Senior citizens' home by the name VLN Prabuddhalaya and an Ayurvedic Hospital by the name VLN's Nisarga Ayurdham. VLN Prabuddhalaya contains services and facilities for every income group of people. It has both ordinary services and deluxe services. It is a luxurious old age home. They are always occupied, and it is difficult to get admission. It is a little far from the city.
Amenities:
Round-the-clock medical care and checkups in allopathic, ayurvedic, and homeopathic systems with fully equipped in-house clinics and pharmacies.
physiotherapists with a fully equipped Physiotherapy Centre.
Diagnostic lab.
Wheelchairs, oxygen cylinders, walkers, etc.
Ambulance facility for transfer to nearby hospitals when needed.
Attender service and nursing care for the needy.
Meditation hall and yoga classes.
In-house telephone and intercom system connecting all the infrastructural facilities like library, lab, pharmacy, etc.
Indoor games.
Lifts with generator back-up.
Union Bank Corporation bank facilities within the campus.
Cost: Rs 15000 admission charges. You can check out the tariff on their website.
6. Nethu Priya Home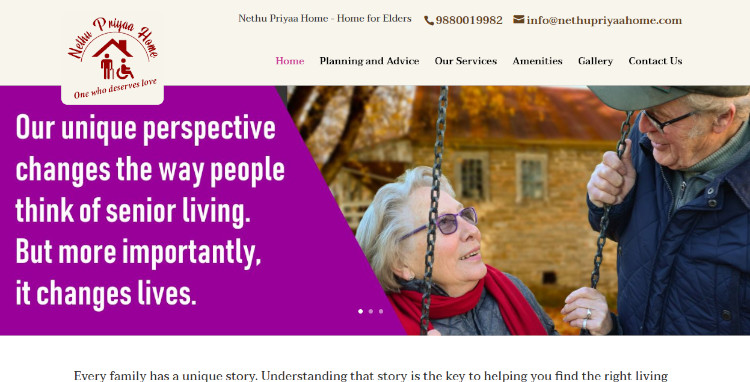 Nethu Priya home is in Bannerghatta Road and was established in 2019 with the objective of helping you find the right living arrangement for your loved one. They assist with activities of daily living with which a resident may need partial or complete assistance, such as Personal Hygiene, Meals, Dressing Assistance, Toileting, and Mobility. They do provide what they say. It is at reasonable rates compared to others.
Amenities:
From housekeeping to healthcare, to well-balanced meals, etc.
Major Network Hospitals like Apollo and Fortis Hospitals are within 1 KM distance.
On-call doctor services
Temples and Parks with a hop-in walkable distance.
Cost: Transparent
7. Rotary Orchards Chaitanya Senior Citizen Home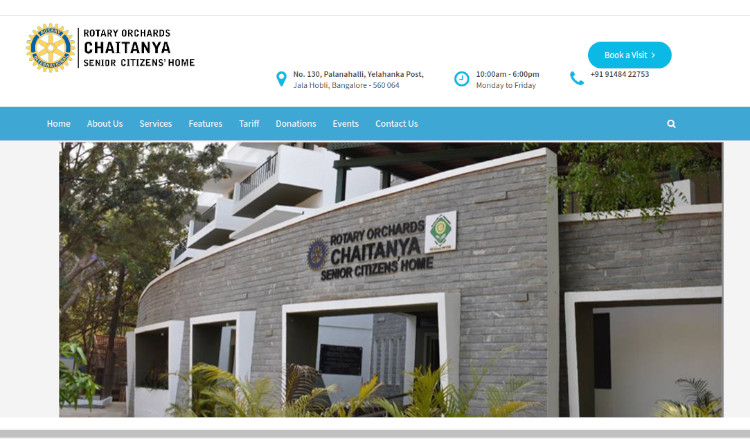 Chaitanya Senior Citizens' Home is an ultra-modern 100 bedded facility designed and built for the convenience and safety of seniors. Facilities include spacious rooms with attached bath/toilet, single and joint accommodation, non-skid wet areas, hot water, central dining, nursing stations, bedside support, a spiritual center, doctor and rehab rooms, entertainment space, and many more. It has the most amenities and is possibly the cleanest facility in Bangalore. There, people seemed really content, and the administration was good.
Amenities:
Spacious rooms with attached bath/toilet
Single and joint accommodation
Non-skid wet areas, hot water
Central dining
Nursing stations and bed-side support
Spiritual center
Doctor and Rehab consultation rooms
Educational and Enrichment areas
Entertainment spaces
Library
Emergency call systems
Yoga and exercise hall
In-house housekeeping and Maintenance
24-hour security
Cost: Depending on whether the single room is needed or shareable rooms, cost changes. The cost for a single room is 19000 per month. The deposit is refundable.
Average Cost of Living in Old Age Home in Bangalore
The average cost of living in an old-age home in Bangalore depends on the facilities they provide. Also, some places do not take the money and get to run the place on charity, but you can expect the service to be very poor. Typically the cost range varies from 10,000 a month for stay and food to 50000 a month.
FAQs: Things to Keep in Mind
What are the best old-age homes in Bangalore?
Depending on the pros and cons of various old age homes- Rotary Orchards Chaitanya can be ranked the best.
Which is the cheapest Old age Home?
Well, there is no definite number of pricing as it depends on the needs of the person. Most places provide customized packages as per the needs and requirements of your elders. In most places, they do not provide the price list on the website, and you have to inquire about the particular place to know the cost.
Will the plan change when they get older?
Yes! When they initially come here as an independent living facility which does not include much nursing or medical care, but as they grow older and tend to get some problems, it might result in changing the plans. This will depend on the facilities that various old age homes offer to ensure a healthy and happy living for your elders.
The Bottom Line
A lot of research is needed to find the right old-age home for your dear ones. Many bad businesses have opened in the name of old care. Hope the article has helped you to know more about the best old age homes in Bangalore and choose the right one. To know more, you can visit their websites and post your queries.